"Truly Simple Elegant Tea Cake" and "Small Yellow Print Seven-sons Tea Cake"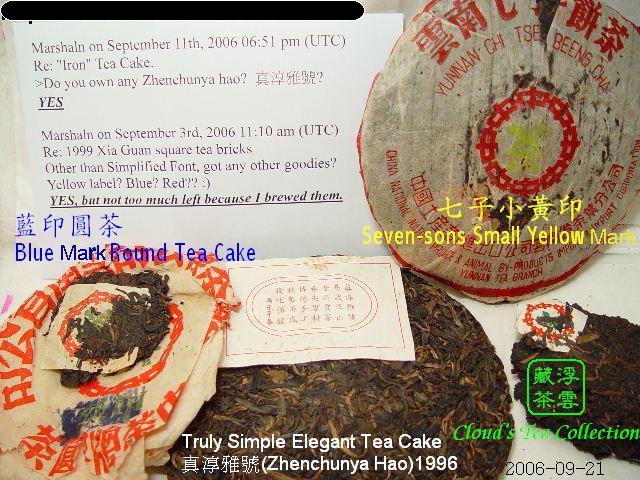 Marshaln on September 11th, 2006 06:51 pm (UTC)
Re: "Iron" Tea Cake. Give me some time - I will write on this issue with pictures
Do you own any Zhenchunya hao? 真淳雅號?
and
Marshaln on September 3rd, 2006 11:10 am (UTC)
Re: 1999 Xia Guan square tea bricks
It looks like you shop sometimes at Sunsing, as the tong of stuff in the bottom left
(in the white polyester bag wrapper) looks like their packaging. Which cake is it?
Other than Simplified Font, got any other goodies? Yellow label? Blue? Red?? :)
Dear Marshaln,
I am busy these days.
I reply you by posting photos.
I have got some samples of "Truly Simple Elegant Tea Cake" (or "Zhenchunya Hao").
For Seven-sons Small Yellow Print (Tea Cake), I have some.
For Blue Print Round Tea Cake, I have brewed it and, therefore, not much left.
Clouds (Hong Kong)
http://www.cloudsteacollection.com